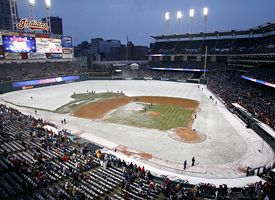 The Indians were one strike way from winning the home opener. But the idiot umpires decided to delay the game, which was in the top of the fifth inning, the crucial inning which must be completed for a game called due to weather to count. The game ended up getting postponed, and the innings played on Friday meant nothing. The entire 4 game series ended up getting cancelled due to the weather, and will be made up sometime in the future.
Now the Indians next series, a three game
home stand
against the Angels scheduled for April 10-12, has been moved from Cleveland. The Tribe will play a "home " series in Milwaukee's Miller Park. So basically, the Indians are getting screwed out of true home games, and will play only 78 games at Jacobs Field (and possibly less depending on the rescheduling of the Seattle series). That, and the fact that the umps prematurely ended the Friday game, is bull shit.